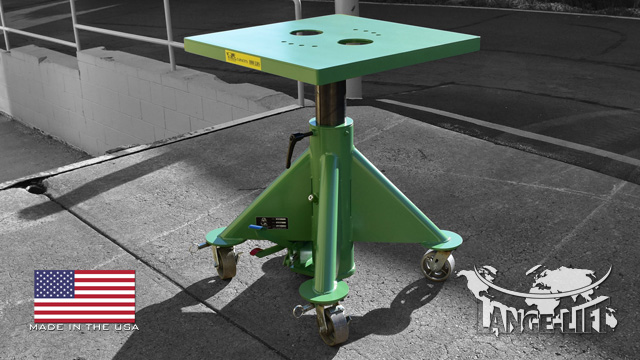 Serial #34707 | Modified Lift Table
Capacity » 1,000 Pounds
Deck » 30″ Square Flat Steel Deck with Custom Tooling Pattern to Accommodate Customer's Fixture, 360 Degree Continuous Rotation with Lock Handle
Base » 30″ Square, Formed Steel Legs and Welded Steel Frame. Features 5″ Ø Cast Iron Rigid and Swivel Casters. Swivel Casters Include Top Lock Brakes.
Raised Height » 45″
Lowered Height » 27″
Vertical Travel » 18″
Power » Manual Powered Foot Pump
Controls » Foot Pedals – Lift/Lower
Paint » Machine Green
IMPORTANT! The lift on this page is a modified or custom product.  Products of this nature may have very specific features, seen and unseen, that are unique to the original end user's application. When inquiring about this lift, our customer service team will ask you questions about your application to make sure that you're getting the right lift for your application with the features you want. Please reference the lift on this page by it's serial number.