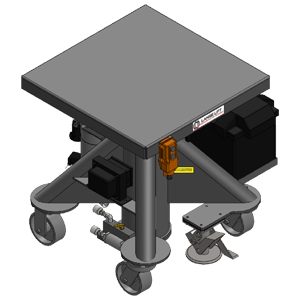 Table Capacities
1,000 Pounds
2,000 Pounds
3,000 Pounds
4,000 Pounds
5,000 Pounds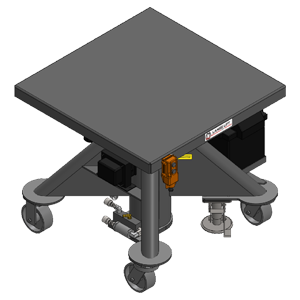 Table Capacities
1,000 Pounds
2,000 Pounds
3,000 Pounds
4,000 Pounds
5,000 Pounds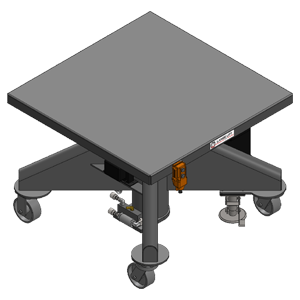 Table Capacities
1,000 Pounds
2,000 Pounds
3,000 Pounds
4,000 Pounds
5,000 Pounds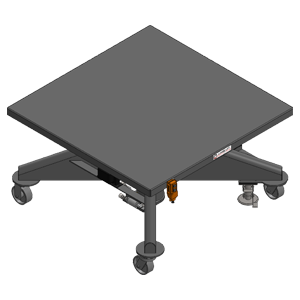 Table Capacities
1,000 Pounds
2,000 Pounds
3,000 Pounds
4,000 Pounds
5,000 Pounds
Battery Powered Hydraulic Lift Tables are ideal for material handling in any industrial or aerospace environment with high mobility requirements, limited access to electrical receptacles, and even outdoors. With no plugs or hoses required for operation, the handheld controls allow for quiet, quick, and effortless operation anywhere. Adjustable working heights promote safety, a reduction of bodily stress & repetitive motion injuries, and increased efficiency. Ergonomic Lange Lift Tables are the perfect choice for machinists, welders, assemblers, fabricators, and more. Our products are wholly manufactured at our factory in Menomonee Falls, WI, USA since 1934.
Is a Battery Powered Lift Table the Right Option for You? 
These tables are perfect in applications with limited access to outside power sources for an extended period of time, and are tremendous time savers in high cycle applications, even outdoors. Our tables will offer highly ergonomic, innovative, and dynamic solutions to your facility for all of your material handling needs. All of the components are housed within the base of the lift table, and no laborious setup required for smooth, quiet operation.  
How to Operate Our Battery Powered Lift Tables
An onboard DC Motor powers the table, which then drives the hydraulic fluid to lift the table to the desired working height, and is lowered by gravity with the press of a button. To control the down speed, a flow control valve on the base of the table can be adjusted by hand to fit the needs and safety of your operating environment. When the table needs to be charged, simply attach the base-mounted battery charger's cord to a 110V electrical outlet. Indicator lamps on the battery charger show the charging status of the table when it's ready for use. A coil corded pendant with a magnetic backing controls the lifting and lowering of the table, and can extend out to approximately 10 feet. The operator will be able to raise and lower the table quickly and efficiently with the push of a button, eliminating an instance of repetitive motion during repeat usage. 
How Versatile Are Lange Lift's Lift Tables?
The tabletop is able to be rotated 360º clockwise and counterclockwise. Additionally, they can be locked in place in any position and height, with the adjustable lock handle beneath the deck.  Every Lange Lift Table is highly mobile, with 2 swivel casters and 2 rigid casters, so materials can be easily transported from one location to the next, and maneuvered along the way. Using your foot, secure the table in place with our industrial floor lock, and release it to disengage. Battery Powered Lift Tables have an overall raised height of 45″, a lowered height of 27″, and 18″ of vertical travel.
About Our Company and Craftsmanship
Lange Lift is a small, family-owned, veteran-owned business that remains committed to providing the quality lift products and dynamic, result-driven solutions we've built our name around for over 80 years here in the United States and throughout the world. We've been honored to serve many industries in that time, from Aerospace, Energy & Oil, Manufacturing, Government & Defense, to Medical, and everything in between. We will continue to build on and serve the trust and confidence we have earned, and hope to earn yours. Lange Lift Tables are proven in the field, engineered, and built to last, with high-quality steel and craftsmanship. If you value what you're lifting, shouldn't you value the lift itself? Material handling is what we're about, and we equip our tables with high-quality components, to serve that need.
All of the products here are able to be highly customized. Click here for some examples of our extensive work for our customers that have unique material handling applications. Don't see what you need? Visit the Contact Us section and one of our salespeople will work with you, in conjunction with our team of professional engineers, to design the perfect table for you. We will provide a 3D drawing of our concept, and can also provide. STEP files for use in your design process.
Battery Powered Hydraulic Lift Tables – Video